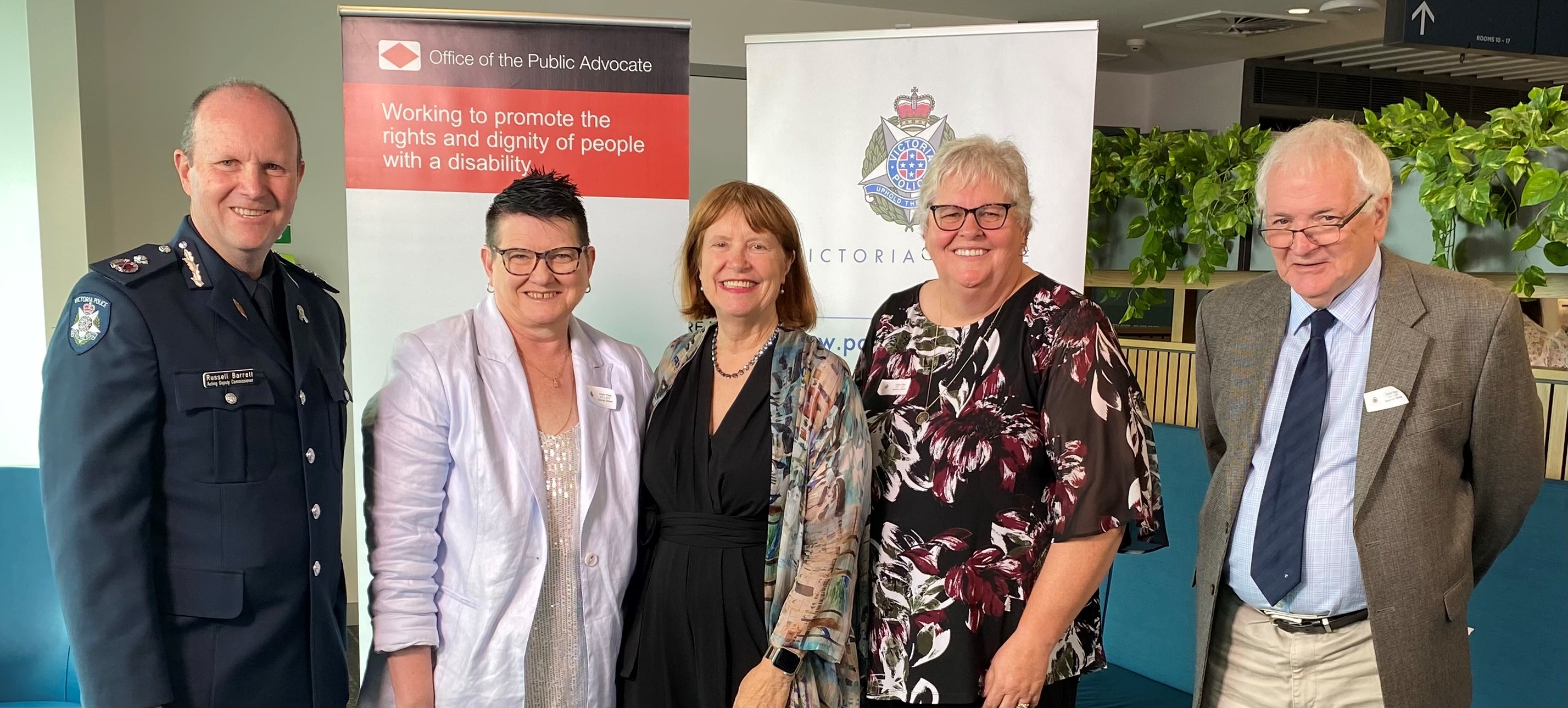 Acting Deputy Commissioner Russell Barrett, ITP Tracey Ryan, Dr. Colleen Pearce, ITP Marg Boothman and ITP Patrick O'Donnell.
The Public Advocate Awards for Outstanding Police Service 2022 were recently held at the Victoria Police Centre on 3 March 2023.
The awards are in their seventh year and commend police members and stations across the state for their outstanding service to Victorians with disability.
The award recipients this year come from a mix of stations and police roles, but all are making a real difference in the lives of people with disability in Victoria.
The Public Advocate, Dr Colleen Pearce, noted the human stories behind every one of the awards and expressed they showcase the impressive work of police throughout Victoria.
'Every nomination we received deserves recognition. The totality of these stories is incredibly moving and shows that we are part of a system that is changing for the better.'
Championing athletes with a disability
Sergeant Melanie Castles-McKeown, who championed the Law Enforcement Torch Run (LETR) supporting athletes with disability, has been recognised with the 2022 Public Advocate's Ben Bodna Award for Exceptional Leadership in Support of Victorians with a disability. The LETR's focus is to provide opportunities for inclusion and improved quality of life for children and adults with Intellectual Disability through support for Special Olympics programs, education grants, workforce placement and championing fundraising initiatives.
In 2010 Sergeant Melanie Castles-McKeown's sister, Alannah, who has Down Syndrome was selected to attend the Asia Pacific Games for Special Olympics. It was at this time Sergeant Castles-Mckeown learned of the LETR and decided to get involved when she saw firsthand how important sport and competition was for her sisters' quality of life, and more broadly the disability community.
Sergeant Melanie Castles-McKeown has been involved with the LETR for 10 years and has held the roles of Secretary and Vice-President. During her 10 year involvement, she has organised countless events, scholarships and programs to bring awareness and support to regional disability communities.
Outstanding Police Service to People with Disability
Victoria Police Soccer Club
The Victoria Police Soccer Club received the award for Outstanding Police Service to People with Disability for its participation in the annual soccer match with the All-Abilities Soccer Academy.
The All-Abilities Soccer Academy or AASA is supported by volunteers and parents who have children with disability.
The annual matches were initiated when the AASA coach identified that a number of their players were unsure or even fearful of police members and may be reluctant to approach police members, even in emergency situations.
The matches have been running since 2006 and are much loved by the academy.
Sergeant Barry Randall
Sergeant Barry Randall of the Forest Hill Police Station was awarded the Public Advocate Award for Outstanding Police Service to People with Disability for creating Operation Soul Surf.
Operation Soul Surf is a therapy program that provides an opportunity for members of Victoria Police who are impacted by trauma to experience the healing power of surfing and the ocean.
Independent Third Person Program Awards
Frankston and Bairnsdale Police Stations were awarded for their use of the Independent Third Persons program to support people with disability through police processes.
Frankston Police Station
The Metropolitan Police Station award went to Frankston Police Station who called the ITP Program 71 times during the year, a 14% increase on the previous year.
The nomination included that members at Frankston were very considerate towards a client who was in an especially vulnerable condition. The client was provided with a hot meal and police made sure there was a safe place for them to stay at after the interview. Police took time to discuss the client's condition and needs extensively with the ITP prior to proceeding with the interview.
Bairnsdale Police Station
The Regional Police Station award went to Bairnsdale Police Station who called the ITP Program 103 times during the year, a 60% increase on the previous year.
In their nomination, the ITP mentioned that the interactions between clients and Bairnsdale police members was respectful and professional.
The ITP highlighted a specific client who was transitioning from female to male and has an intellectual disability. The ITP mentioned that police took their time with the client and took extra care to make sure they were feeling safe and comfortable. The ITP finished by noting 'it seemed like they take these needs seriously and it is a good sign for the culture at the station.'
2022 Certificates of Commendation for police work with Victorians with disability
Digital Services & Security Department
- For their development of the Accessibility Action Plan to ensure all digital software and applications are accessible for Victoria Police employees with disability.
Dr Steven Curry from the Strategic Intelligence Unit
- For his lead in the redevelopment of the complaints form to better accommodate the needs and backgrounds of marginalised and at-risk Victorians.
Inspector Matt Volk
- For his ongoing commitment and effort as President of Law Enforcement Torch Run Victoria.
Acting Senior Sergeant Jason Kok
- For his work with community groups and people with disability in Hume and inviting them to join the Hume Disability Inclusion and Advisory Group (HDIAG).
Laura Fettes of the Mental Health Program Office
- For exemplifying the values of inclusion and accessibility as demonstrated through her efforts to ensure a presentation was completely accessible for her colleague at Victoria Police who has a vision impairment. Laura converted the materials herself and verbally described everything that was written during the presentation to support her colleague.
Leading Senior Constable Jason Bray
- For his advocacy and care when working with a client who is under guardianship at OPA. The Advocate Guardian commended his devotion to providing excellent community protection and dignity to the elderly.
Leading Senior Constable Rachael Kelly of Wodonga Crime Scene Services
- For her role as Law Enforcement Torch Run Regional Coordinator for North-Eastern Victoria and mentoring Special Olympics athletes in Wodonga.
Preston Police Station
- For achieving SCOPE Communication Access Symbol Accreditation, which provides the skills and strategies to communicate effectively with people who have communication difficulties.
Sarah Larsen from International Communication at Victoria Police Centre
- For creating an 'Accessibility Hub' on the VicPol intranet to ensure all accessibility and inclusion information is readily available for all staff.
Service Delivery Transformation Command
- For recruiting Denton Bowles as part of the 'Stepping into Internship Program' that supports people with disability. Denton expressed that his time with the team gave him the confidence to get back into the workforce and also motivated him to seek roles where he could contribute to the community. He has since become a representative on the NDIS IGAP committee & has taken up an advocacy role in Asperger's Victoria.
Bendigo SOCIT
- For their support of local ITPs, the ITP program and the clients. The ITPs that nominated them described the patience, care and respect the unit affords to every client they interact with and the calming environment they have created for at-risk people.